May Third Thursday - Celebrating Active Living!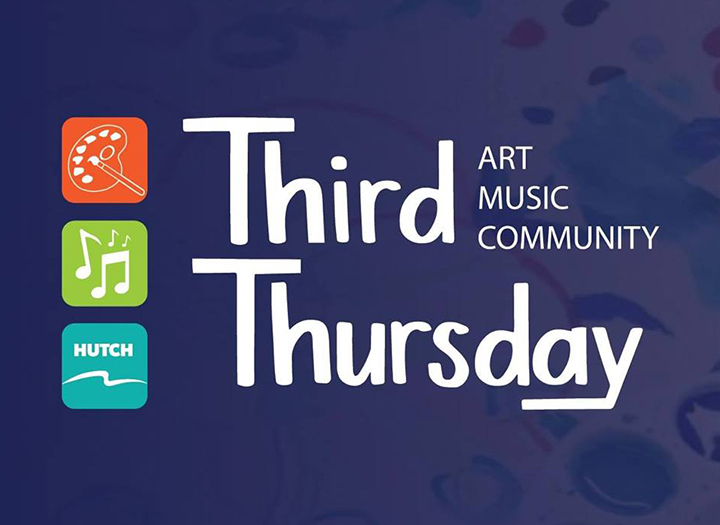 May 16 • 5:30 PM - 8:30 PM

Downtown Hutchinson

Hutch Rec Third Thursday Website »
Contact
620.663.6179

Time: 5:30 PM - 8:30 PM
It's Third Thursday! Every month is special and you don't want to miss it. Music, Art, Fun and More - all Downtown. In May, join us on Main Street from Avenue B to DCI Park to Celebrate Active Living!
Featured Activities: 5:30-8:30 p.m.
Youth Sprint Bike Races (4-6 yr olds): in front of Smith's Market & Westlake Hardware on the Ave C to Ave B block. Check-in starts at 5:45 p.m. at the public lot straight east of Smith's Market off oc Ave C. 6:15 p.m. is 4 & under sprint; 6:30 p.m. is 5 yr old sprint; 7:00 p.m. is 6 yr old sprint. Prizes and gifts provided by Smith's Market & Westlake Hardware.
Fitness Demos: Join Hutch Rec fitness staff at the Avenue A Park gazebo for a variety of demos, including yoga, spinning, and even paddle boarding along Cow Creek!
KS Law Enforcement Torch Run for Special Olympics: Starting at 5:45 p.m., members of the Reno County Sheriff's Department and Hutchinson Police Department will run from DCI Park (2nd & Main) south to Smith's Market with our local Special Olympics athletes.
Reno County Museum Chalkfest: Participants can chalk draw in designated areas around the museum courtyard. Drawings will be judged and prizes awarded in various age categories.
Hutchinson Art Center: Public art reception for ceramicist Barbara Stevens, 5-8 p.m.
Info Booths & Activities: 5:30-8:30 p.m.:
Hutchinson Middle School Orchestra - classical music concert in DCI Park.
State Fair Promenaders Square Dance Club
Alicia Mora - violinist
Cause for Paws
Mod Squad
Bernie Sanders 2020
Central Kansas Roller Derby/Yellow Brick Rollers Jr Roller Derby
Girl Scouts of the Kansas Heartland
New Beginnings Inc.
Evolution Car Show
First Southern Baptist Church
Prairie Independent Living Resource Center
Rainboo Kangaroo
Crafty Things by Rhonda
Younique/CM Enterprises
Lularoe with the Yogis Girls
Team Lewis Body Art
MacKenzie with Bellame
Krista Sprinkle art sale
Blazefork Photography