July Third Thursday - Arts and Eats!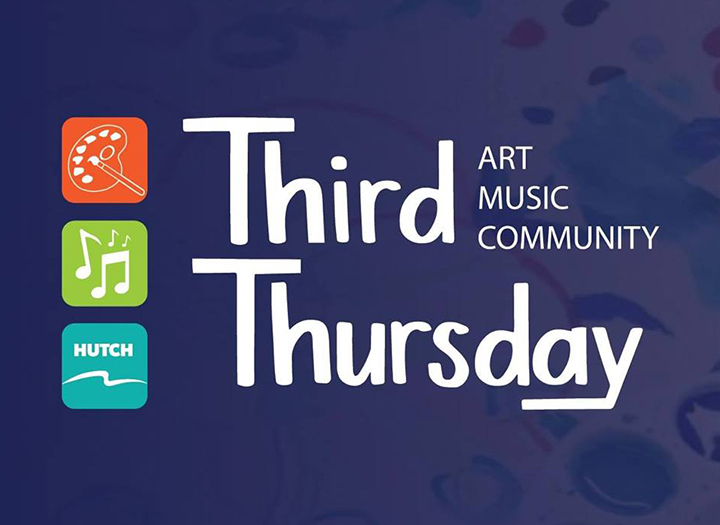 July 18 • 5:30 PM - 8:30 PM

Downtown Hutchinson

Contact
620.663.6179

Time: 5:30 PM - 8:30 PM
It's Third Thursday! Every month is special and you don't want to miss it. Music, Art, Fun, and More - all Downtown. The theme for July is Arts & Eats with featured areas on West 5th Avenue and Main Street to Avenue B. PLUS... the trolley is back! Follow the Third Thursday Facebook page and thirdthursdayhutch.com for details!
Featured Activities: 5:30-8:30 p.m.
5:30-8:30 PM - Hutchinson Art Center events at 4th and Washington, including: Art Salew/45+ vendors: "Painting" Zoo; Live Circus performances; Sculpture Art Walk award announcments; and more!
5:30-8:00 PM - Food Trucks near 5th and Main, including: The Traveling Bowl; Comfort & Joy; Mobb Foods; Mark & Angel's Trailside Cafe; Rainbow Kettle Korn n' More.
5:30-8:30 PM - Downtown Business Sidewalk Sale, including: Evolution Salon & Spa; Amelia Beadelia's; Nicholaus Jewelry; Lucille's Boutique; Apron Strings; Anima Bella Salon; Spa & Boutique; Reffners; Sister Moses; Tesori Boutique; Dear Lizzie Boutique.
5:30-8:30 PM - Reno County Museum Ice Cream Social; FREE admission to Oodleplex, trolley stop
Info Booths & Activities: 5:30-8:30 PM:
Hutchinson Fire Department: fire truck & hoses
Toy Depot: interactive train room
Emanicpation Proclamation Day committee
Prairie Independent Living Resource Center
Bernie Sanders 2020
Mod Squad
Central Kansas Roller Derby/Jr. Roller Derby
Girl Scouts of the Kansas Heartland
New Beginnings Inc.
Evolution Car Show
Catholic Church
Park Place Christian Church
Aubrey's Pearl Poppin' Parties
First Southern Baptist Church
Legacy Bible Church
Allen Samuels Chrysler Dodge Jeep Ram
Walmart
Humana Insurance
Team Lewis Body Art
Kinda Old Kinda New
Rainboo Kangaroo
Younique/C & M Enterprises
Aradia Willard's Art
Paparazzi Jewelry & Accessories
Aleesa Soaps
Lularoe with the Yogis Girls