Tour de Salt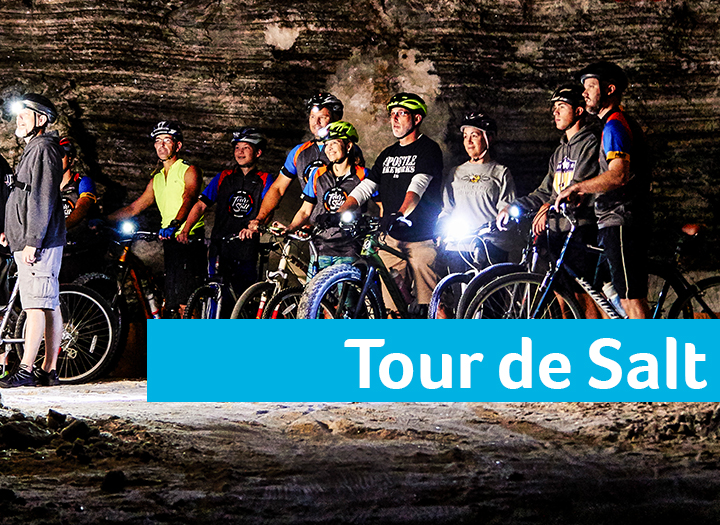 October 13 • 7:00 AM - 12:00 PM

Strataca
3650 East Ave G
Hutchinson, KS 67501
US
Get Directions »
Contact
620.662.1425

Time: 7:00 AM - 12:00 PM
Strataca Salt Museum's Tour de Salt is a unique opportunity to bicycle over salty terrain in an active salt mine 650' under the Kansas prairie. It's the only ride of its kind in North America!
Riders must check in 30 minutes prior to their Bike Ride Time. Late arrivals are not guaranteed to participate. There are no refunds for this event. This is a 3.5-ile bike ride.
Equipment Requirements:
Bike (these are suggestions, not requirements) - Mountain, Flat Tire, Fitness and Hybrid bikes would be suitable wth a minimum tire width of 32c (1.25 inches) or wider with knobby or file type tread.
Helmet - All riders must wear a bicycle helmet (ANSI or Snell Certified) at ALL times while in the mine.
Light - Handlebar or helmet mounted light under 350 lumens requiredc with a 1-hour run time. No blinking lights.
Cost includes the adventure ride, a custom bike jersey ($75 value), bike wash station and free repairs on site and a chance to win a Flat Tire Bike!
The cost to watch underground is $10 as space allows it.
This is an Adventure Ride - not a timed or distance race. For those familiar with IMBA Train Difficulty Rating System, the route would be classified as a Green Circle "Easy." Age requirement is 10 years old.
The temperature underground is always 68 degrees so dress accordingly.