"Picnic" Special Showing at the Fox!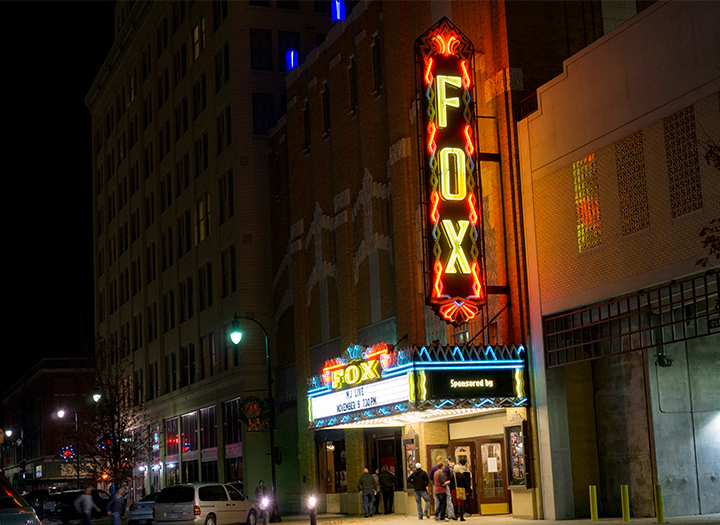 November 09 • 7:30 PM

Hutchinson's Historic Fox Theatre
18 E. 1st Ave.
Hutchinson, KS 67501
US
Get Directions »
Cost
$0.50
Contact
620.663.1981

Time: 7:30 PM
The next movie for the Fox Film Series is a Special Throwback Showing of "Picnic (1956) starring William Holden, Kim Novak, and Betty Field! With this special throwback showing, the Fox is also throwing the admission price back to the 1950's with a $0.50 ticket price! Doors open 30 minutes prior to show time. Film Series passes include 10 admissions and a punch card for five FREE small popcorns for only $36, good for any FOX Film Series movie. Passes available at the door or here.
"Picnic," filmed in Hutchinson and surrounding communities, premiered at the Fox in 1955. Many local residents were cast as extras in the film and have fond memories and incredible stories about that magnificent event. The principal cast of the film, including William Holden, Kim Novak, and Rosalind Russell, all appeared on the Fox stage in celebration of its premier on June 16th, 1955. Join us for this very special presentation of the original film as we look back on the incredible history of this National Historic Landmark. The Fox, which closed in 1985 after 54 years o operation, was rescued by a small group of local citizens. A monumental fundraising event was lunched which, by the end of the 1990s, had raised over $4.5 million dollars. Hutchinson's Historic Fox Theatre reopened on January 29th, 1999 featuring a sold-out performance by actor and dance legend Gregory Hines. The theatre continues to thrive 20 years after that unforgettable evening, fulfilling dreams and promises of all those who have believed in it over its now 88 year history.
Movie Description: Emotions are ignited amongst the complacent townsfolk when a handsome drifter arrives in a small Kansas community on the morning of the Labour Day picnic.
Rating: PG
Runtime: 115 min.