Fun Valley
4401 W 4th Ave, • Hutchinson, KS 67501
US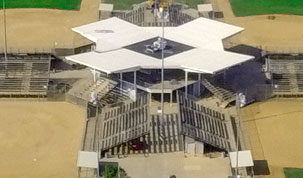 Named "Softball Complex of the Year" by both U.S. Specialty Sports Association and Softball Owners and Directors of America, Fun Valley is a premier sports facility.
The complex features seven natural turf fields across 35 acres. Fun Valley is two miles west of Hutchinson and accommodates seating for 5,000. The complex includes a large concession area, a pro shop, two sand volleyball courts, children's playground equipment, an upper deck mezzanine, and air conditioned sports bar.
For more information on Fun Valley Sports Complex, please contact Hutch Rec at (620) 663-6179 or funvalley@hutchrec.com. You can also find out more information on the Fun Valley and Hobart Detter Facebook & Twitter pages.