Hedrick Exotic Animal Farm
7910 N Roy L Smith Rd • Nickerson, KS 67561
US
Office hours:
Monday-Friday: 8:00am-noon and 1:00pm-5:00pm
Tours by reservation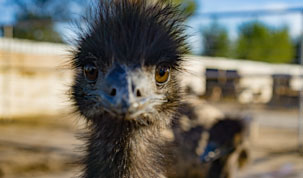 Ever dreamed of riding a camel through the desert or getting close to a kangaroo? These types of exotic animals are not normally found in Kansas or in the United States for that matter, but you can find them when visiting Hutchinson. Hedrick Exotic Animal Farm is home to a variety of exotic animals from around the world. Visitors can get close to animals that are simply not found in the average zoo. Plus, with the ability to book camel rides, a child's dream of riding one through the desert can easily become a reality. While Kansas doesn't resemble the vast deserts of Egypt, the experience will still send their imagination soaring.
Family and group tours are available, making this an ideal destination for large family gatherings.
Hedrick's also has a Bed and Breakfast Inn that looks like an old western town, making it easy to spend the day with exotic animals before settling in for the night.
Learn more about Hedrick Exotic Animal Farm and plan your trip here.