Daylight Donuts
1435 East 30th Avenue • Hutchinson, KS 67502
US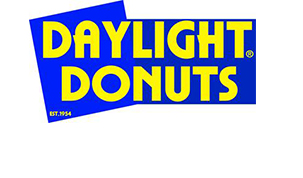 Welcome to Rise and Shine Daylight Donuts!
We are a life long Hutchinson family with over 20 years of bakery experience. Two things we are passionate about are fresh, quality products and making people smile. Our fresh donuts and baked goods will definitely be of the highest quality and we are pretty sure they will put a smile on your face.
We start each day making all of our donuts from scratch. This is unique these days where many places serve frozen donuts that are warmed up and put out for sale. Every item we sell is hand made just for you.
Not everyone is a morning person, so you don't have to be smiling when you come in, but we hope you will be smiling by the time you finish your coffee and donuts. It's time to rise and shine because it's Daylight time! Time to go to your happy place at 1435 East 30th Ave in Hutchinson.