Public Art
1600 South Elm St. • Hutchinson, KS 67501
US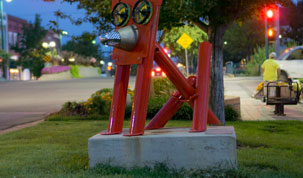 Hutchinson is a dynamic city of opportunity and increasing diversity. Located in the Kansas heartland of unparalleled prairie beauty, we want our urban landscape to reflect an equally engaging aesthetic profile. Public art can be a visual representation of this unique Hutchinson spirit – and help the City's character continue to evolve. Through the creation of a Public Art Program, the City of Hutchinson will provide cultural leadership, guide the evolution of a distinct and vibrant artistic character for the city's emerging public places, and ensure a visual legacy. Public Art is a vital ingredient in the cultural fabric and street scape of creative cities.
Public art is defined as artist creations or collaboration in any medium, which are intended to be accessible to the general public. Works may include all building or landscape related works of art, whether fixed or freestanding, permanent or temporary, within external or internal settings and covering a wide range of art forms and media. Public art does not include any architectural or landscape design, except when commissioned and designed by an artist.
As Hutchinson moves forward, its regional standing as an exciting place to live, work and visit will be enhanced through these guidelines. This is the moment to focus on the appearance of the City's public spaces and its civic architecture. In short, these guidelines foster the image and identity of Hutchinson.