Gowan's Stadium
500 Block East 11th Avenue • Hutchinson, KS 67501
US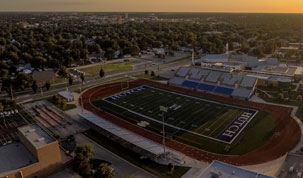 With the extensive renovations and modernization of Gowan's Stadium, it is now an outstanding venue for a wide variety of events.
First and foremost it is a football field, home to the Hutchinson Community College Blue Dragons and the Hutchinson High School Salthawks, seven-time state 6A champions. In addition to a much-needed increase in seating capacity, the $3.5 million project included new entrance gates, public restrooms, locker rooms, and concession areas.
Gowan's Stadium also hosts the annual 3A State High School Football Championship game, the NJCAA Salt City Bowl game, and biannual NJCAA National Track & Field Championship. For more information, call (620) 665-3500.