Biking Across Kansas (BAK) is coming to Hutch!
Wednesday, February 02, 2022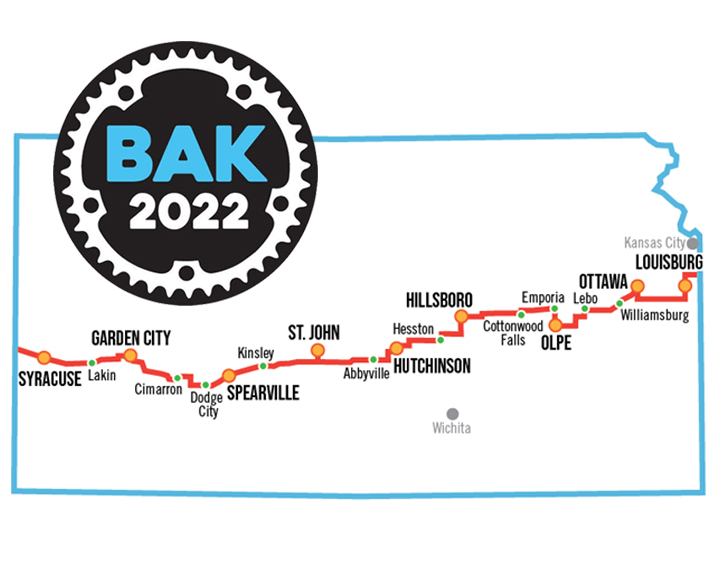 After a two-year delay due to Covid, the eight-day bicycle tour across the state of Kansas will be stopping here on Tuesday, June 14. Event dates are June 11 – 18.
Biking Across Kansas is more than a bike ride. It's an experience. Participants will enjoy great bicycling and adventure along with the generous hospitality of Kansas including beautiful landscapes, historical points of interest, great people from across the country and abroad, lots of fun and laughter, adventures, memories, and friendships that will last a lifetime!
The ride will begin at the Colorado border west of Syracuse, with overnight stays in Garden City, Spearville, St. John, Hutchinson, Hillsboro, Olpe, and Ottawa. It will conclude at the Missouri border near Louisburg.
BAK 2022 is a recreational and social rally for cyclists. Each rider sets a pace agreeable to his or her own degree of expertise. Capable riders of all ages are welcome to join the fun!
The very first Biking Across Kansas was launched in June of 1975. It also served as a pre-test for the Kansas section of the official Bikecentennial '76 cross-country route.
The routes change from year to year and nearly every corner of the state has been visited by Biking Across Kansas cyclists. BAK has exposed people from all over the country to the beauty of Kansas and has done much to increase state tourism.
The goals for BAK now, as they were in 1975, are to provide a safe, fun, and memorable adventure for everyone who undertakes the challenge of biking across the beautiful state of Kansas. BAK limits participation to 850 on each year's event.
Planning meetings have begun, so more information will be released soon. For registration information, link here: http://bak.org#bak2022