NJCAA DI Men's Basketball Championship Wins National Award
Wednesday, October 03, 2018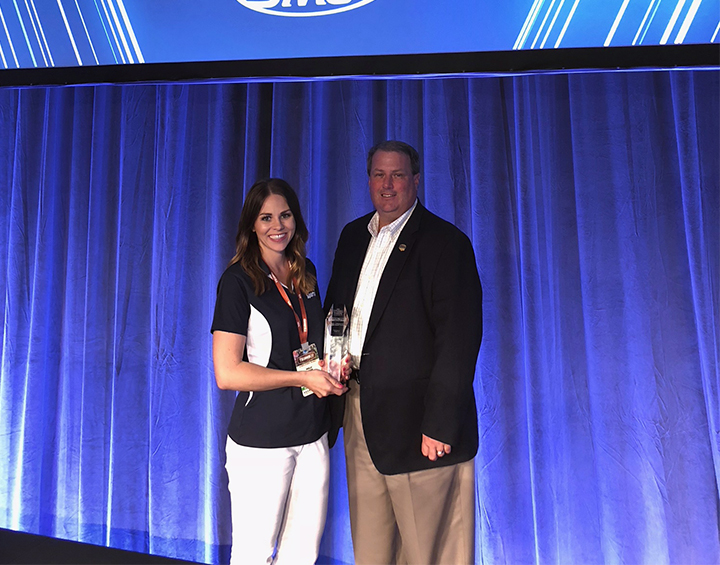 Visit Hutch announced today that the 2018 NJCAA DI Men's Basketball Championship has won a SportsTravel Award for the Best Single-Sport Event in the Collegiate division. The award was presented at the SportsTravel Awards Ceremony at the national TEAMS Conference, put on by Northstar Travel Group.
'The Tournament', as it is known locally, was one of five events that were nominated in this category. The nominations were put to a public vote over a two-week period in August. Visit Hutch staff and NJCAA board members were present at the TEAMS Conference in Louisville, Kentucky to accept the award on behalf of the American Legion.
Other events nominated in the Single Sport Event category were the Big Ten Football Championship in Indianapolis, IN; NAIA Women's Soccer National Championship in Orange Beach, AL; the Rose Bowl in Pasadena, CA and the Tucson Invitational Games in Tucson, AZ.
"The American Legion Lysle Rishel Post 68 commits over 200 of our volunteers and thousands of hours every year to put on an event that the NJCAA and the community of Hutchinson can be proud of. It's a labor of love for all of us involved, and this recognition is a testament to our event being one of the best collegiate championships in the country" said Jerry Ricksecker, tournament chairman.
Hutchinson has a strong partnership with the NJCAA and have hosted the Basketball Championship at the Sports Arena since 1949. In February 2016, the NJCAA and American Legion signed a 25-year contract to keep The Tournament in Hutchinson.
"Winning a national SportsTravel Award is such an honor for Hutchinson, and we want to congratulate the American Legion on hosting a fantastic event every year. Our community has supported The Tournament for more than 70 years, so this award is for the community of Hutchinson," said LeAnn Cox, Vice President of Operations and Tourism for Visit Hutch.
The dates for the 2019 NJCAA DI Basketball Championship are March 18-23 at the Hutchinson Sports Arena.