Pleasantview
6709 KS-61 • Hutchisnon, KS 67501
US
5 miles west of Hutchinson on Highways 50 and 61.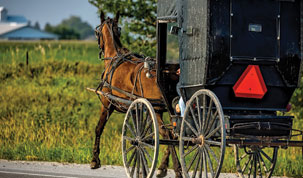 In July of 1883 the families of Abraham Nisly and Christian Bontrager left Illinois and headed for Nebraska seeking bountiful farmland. They were unable to complete their trip due to flooding, but an eager railroad land agent told them of good, inexpensive land in Kansas. On July 25, 1883, the families got off at the last stop on the Santa Fe line in Hutchinson, Kansas.
Today, more than 100 years later the descendants of these Amish families still live in Reno County, now called the Pleasantview Community.
Come spend a day in Pleasantview and visit the 17 businesses which include Fairview Service, Dutch Kitchen, Stutzman's Greenhouse, Midwest Farm & Dairy Supply, Country Home Furnishings, Golden Rule Travel, Bill's Sewing Machine & Vac Doc, Country Fabrics, Glenn's Bulk Food & Book Store, Pleasantview Home Improvement, Custom Mills, Peoples Bank & Trust, Quality Body Shop, Miller's Vinyl Fencing, & Bridgman Oil.