Triptych Murals
400 South Main St. • Hutchinson, KS 67501
US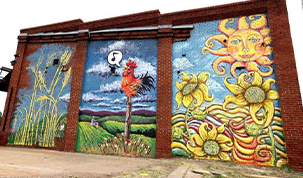 This three-paneled mural was created by three local artists, Jocelyn Woodson, Brady Scott and Julie Black. This mural sits on a privately owned piece of property, but you can get a great view of it from the street.
The artists included Brady Scott, who painted the middle section; Jocelyn Woodson, who painted the left section; and Julie Black, who painted the right section - all local artists. The idea of the mural began when Jennifer Randall, organizer of Third Thursday, had artists take an interest in creating murals dedicated to their hometown of Hutchinson.
Black said the most important element was the community, who supported it and helped by donating paint and supplies for the mural. "There's something to be said about being part of something bigger than yourself," Black said. "I'm always up for an adventure, and it's been one."
During this project, said Scott, it's great to have the community supporting something that seemed to happen in the blink of an eye. "We just sort of went for it," Scott said. "It's nice to see people smile about something you made."
Woodson has had a unique experience working on her part of the mural. She began working later than the other two artists because of a prior commitment. Woodson said she is happy to see the turnout of the project.