Chester I. Lewis Park Mural
15 East 1st Ave. • Hutchinson, KS 67501
US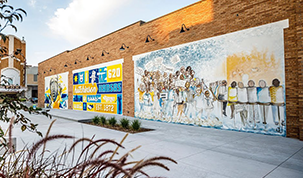 The Public Art Design Council is proud to support the three murals that give life to the new Chester I. Lewis Plaza. The center mural by Josh Tripoli, funded through the City's Percent for Public Art Ordinance, hearkens to the iconic symbols of our community's identity—a postcard for our people to be reminded of what we collectively own and celebrate.

The pair of murals on either side by local artists Brendan Martinez and Jocelyn Woodson deepen our collective history and identity to recognize the life and impact of our own civil rights revolutionary and plaza namesake, Chester I. Lewis. Though privately funded, the Public Art Design Council was honored to partner with Hutch In Harmony on the murals through the Citizens' Initiated Public Art Process.
Together, these three murals speak to our vibrancy and persistence as a community and people. Our sincere hope is that this plaza in the historic heart of our community becomes a gathering place where everyone belongs and where everyone sees themselves reflected in our history, our present, and the abundant possibilities of our future. This stunning mural was completed in 2020.