Cosmosphere
1100 N Plum St • Hutchinson, KS 67501
US
Wednesday-Thursday: 9:00am-5:00pm
Friday & Saturday: 9:00am-7:00pm
Sunday: 9:00am-5:00pm
Closed Monday & Tuesday
Closed Thanksgiving, Christmas and Easter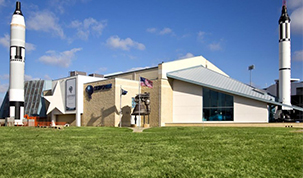 Visiting this state-of-the-art science museum is like stepping into an awaiting adventure. Children and adults of all ages will be swept up by the thrill of watching a show in the Carey Digital Dome Theatre, featuring 4K digital technology, or feel like an astronaut enamored by space when in the Justice Planetarium. Those looking for an explosive adventure will find one at Dr. Goddard's Lab, where the history of rocketry is explored – just hold on to your hats since these live demonstrations could blow you away!
History buffs will also enjoy their trip to the Cosmosphere, where the Hall of Space Museum features the largest combined collection of U.S. and Russian space artifacts in the world. Here, the story of mankind's race to space is vividly captured with rockets, spacesuits, training gear, and artifacts from the Russian Space Station, International Space Station, and shuttles. The Cosmosphere also features flown spacecraft from the Gemini and Apollo programs, including the Apollo 13 Command Module, Odyssey.
Families have a new way to experience STEM activities! The new CosmoKids interactive play area is a place for exploration. Free with a ticket to the Hall of Space Museum, this area features hands-on activities from building a Mars Habitat to learning about orbits at the Gravity Well! Visitors are encouraged to learn through play.
Visitors to the Greater Hutchinson area can easily spend days exploring all that this Smithsonian-affiliated museum has to offer. Then, throughout the year, children are invited to participate in various STEM-education opportunities, along with adventurous summer camps. Here, eager young minds can learn how to turn concepts into reality with hands-on exploration and application of scientific theories. Learn more or register here.
The Cosmosphere offers 15 different camp options for adventurers ranging in age from 2nd grade to adult level. Find out more about camps here.
We invite you to visit Hutch and explore all the Cosmosphere has to offer!