STRATACA
3650 East Avenue G • Hutchinson, KS 67501
US
Hours
Tuesday - Saturday: 9:00am - 5:00pm
Sunday: 1:00pm - 5:00pm
Closed Monday
Last tour begins at 3:00pm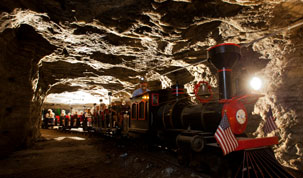 Grab a hand and hold on tight because the double-decker hoist at Strataca is about to take you 650 feet underground in less than 90 seconds. This is a thrilling way to start your own journey into the center of the earth. You won't stop your descent until you are safely below the surface in the middle of one of the largest salt deposits in the world. Here, you can explore environs carved from salt deposits formed more than 275 million years ago.
Tours are available for those over age four, with varying degrees of thrill and adventure. Docents conduct tours of the rooms that have been left behind once the salt has been removed. Some of these tours can be conducted via an underground train ride. Other guests prefer to enjoy the self-guided tour. One exhibit is machinery, equipment, tools, dynamite displays, and items that were used by salt miners in decades pasts. There are even cars and tractors that were lowered into the mine.
Since the humidity below ground is a constant 40%, it is ideal for preservation. A private company, Underground Vaults and Storage, stores items for various states, countries, and companies. Visitors will have the chance to view artifacts that are truly one-of-a-kind, including costumes from some of Hollywood's popular blockbuster movies.
The Salt Mine Express is available to take visitors throughout the salt mine. This 15-minute train ride is a blast from the past, with virtually everything as it was fifty years ago. As miners used to say, "What goes in the mine, stays in the mine." For a longer traveling adventure, visitors may enjoy the 30-minute Dark Ride. This tram tour goes through an area of the mine that includes lit areas explaining air flow, nuclear waste storage, and mine hazards.
Those looking for a thrill can take a salt safari and explore areas of the mine where few have gone before. Guests can venture deep into the untold secrets of Strataca, participating in a subterranean quest unlike anything you can experience on the surface. The salt formations here are spectacular and breathtaking, providing a glimpse into a secret world found under the surface of the earth. What lies under your feet right now? To find out, you need to visit Strataca.