Dillon Nature Center
3002 E. 30th Avenue • Hutchinson, KS 67502
US
Monday-Friday: 8:00am-5:00pm;
Saturday: 9:00am-5:00pm;
Sunday: 1:00pm-5:00pm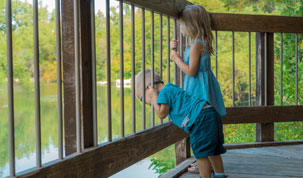 Dillon Nature Center is a 100-acre urban sanctuary on the northeast side of Hutchinson. A wild arboretum and designated National Urban Wildlife Sanctuary, Dillon Nature Center is home to more than 300 species of woody plants, hundreds of varieties of wildflowers and native grasses, 200 species of birds, and a large variety of other wildlife along three miles of National Recreation trails.
The Visitors Center is open to the public, free of charge, and the best spot to begin your visit. Open seven days a week!
While here, visitors can enjoy the great outdoors by taking a leisurely stroll or hike through the grounds, fishing in the stocked pond, bird watching, and exploring plant and wildlife. There is also a playscape for children to enjoy and picnic areas for families.
During the summer months, the Dillon Nature Center is host to an Adventure Camp for K-6th students. Several week-long camps are held throughout the summer, making Hutchinson an ideal destination for families looking to explore. While the kids are at camp, mom and dad can shop, dine, golf, and enjoy all that Hutchinson has to offer.