Yoder Amish Community
9809 South Main • P.O. Box 77 • Yoder, KS 67585
US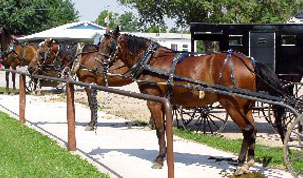 The Yoder Amish Community is the largest Amish community in Kansas. Visitors can experience what life is like for the Amish and how little has changed since the 1800s. What has changed is how the Yoder community is incorporating technology into working the fields and transporting their goods for sale. People visit from throughout the country to purchase their handmade quilts, delicious jams, smoked meats, made-from-scratch desserts and crafts.
Every August, the Yoder Amish Community hosts Yoder Heritage Day. This fun event is packed with activities that begin with a pancake breakfast and includes live music, a petting zoo, buggy races, parade, and tractor pull. The evening concludes with a spectacular fireworks show and live music for guests to enjoy. It is truly a one-of-a-kind event and something that everyone should experience.
Throughout the year, they host other family-friendly events like the Parade of Quilts, Farmers Market, Turkey Dinner, and Christmas Open House.
Click here to explore the Yoder Amish Community or to view their calendar of events.