The Flag Theatre
310 N Main St • Hutchinson, KS 67501
US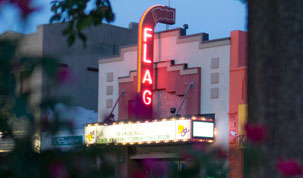 For just a nickel, patrons could enjoy big screen movie features at this downtown fixture built in 1936.
Today, The Flag Theatre is Kansas' only festival stage complex, a dynamic, flexible and acoustically-superior space seating 307. Seating for the disabled is available.
In addition to serving as a small convention, educational, and meeting facility for central Kansas, The Flag is home to the Family Community Theatre. Seven main stage shows are presented each year, featuring a variety of educational, comedic, dramatic, and musical presentations.
Call for information about current programming and facility rental.