Rainbow Lion
2 North Main • Hutchinson, KS 67501
US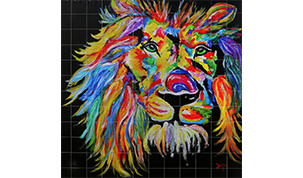 This piece was painted by TECH artist Jerimiah Tolbert, commissioned by Bob and Ann Bush. The idea for this project began when Bob and Ann Bush went to a conference in Portland 2014 and couldn't help but notice their large, hand-painted murals throughout the city and remember thinking 'Hutch should have these too.' That sparked Bob's imagination and fired up his initiative. He met with Matt Lowen and he convinced Bob his team at Lowen could do it less expensively than a hand-painted mural and better yet, that it would stand the test of time."
Bob met with Dorinda Simmons, Director of the TECH Art Program to see if there was a TECH artist that was willing to take on the project. Dorinda and Bob decided to have several artists work on a lion painting and Bob would check in and see which one spoke to him the most.
When asked 'why a lion,' Bob said, "Lions represent Respect, Confidence, Strength, Determination, and many other positive emotions. Lions live, hunt, and work together as part of a Pride and each have an important role in the success of their Pride. This is something that we, as a community (Pride), need to always remember, both personally and as a whole."
Early in the process, Bob was drawn to Jerimiah Tolbert's painting called "The Rainbow Lion" but wanted to wait until all of the pieces were finished to make a decision on which painting would be "the one." The final mural spans over 20 feet high and 20 feet wide. "It's important for people to know that The Rainbow Lion project was privately funded by the Bush Family and was installed on a privately-owned building, which worked out great as the owner of Main Street Event is a long-time supporter of the Arts in Hutchinson." Bob and Ann have committed to maintaining the graphics for the next 10 years. This project was completed in 2018.
TECH Artist, Jerimiah Tolbert, has been a part of the TECH Art Program for a little over a year at that time. Jerimiah was excited to be asked to be a part of this project, even though it was only his third painting in the studio. Dorinda said, "he is very patient and a really gifted artist."