Hutchinson Flag
416 North Main St. • Hutchinson, KS 67501
US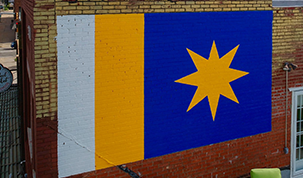 Created by Kylie Baldetti & Kaycee Sutter in 2019. With a final stroke of their brush, two sisters completed the largest rendition of the Hutchinson flag to date atop of a downtown building.
Sisters Kaycee Sutter and Kylee Baldetti finished the 15-foot wide by 10-foot-tall blue, gold and white flag at 416 N. Main. Sutter said she used to teach art classes at Hatch Studios, located on the main floor of the building, and came to know the building owners, Greg and Caryle Fast.
Sutter said the talks about the painting started several months ago, but the work waited until the rain stopped and the children were out of school. It took the two sisters about six hours to prime and paint the flag, Sutter said.