Haven
120 S Kansas Ave • PO Box 356 • Haven, KS 67543
US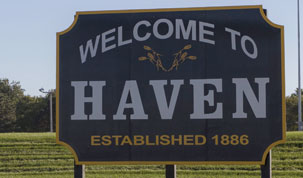 Haven is conveniently located on the four-lane K-96 expressway in south central Kansas, with a thriving downtown, excellent schools and many recreation facilities. Only minutes from Hutchinson, families continue to locate to this pleasant rural community as a place to raise their family.
Haven's downtown has all the essential services of a viable, growing community, including a full service bank, credit union, two car dealerships, a hardware store, two antique stores, a café, emergency medical services, six churches and much more.
Unlike many small communities, Haven has activity downtown anytime of the day. And, children in and around the Haven community have the opportunity to complete twelve years of quality schooling in town.
City recreation facilities include parks, ball diamonds, tennis courts, a swimming pool, and various youth programs such as Scouting, FFA and 4-H.
We invite you to come and join us by moving your home to Haven, locating your business in our friendly community and enjoying the real pleasures of quality living without fear of walking alone at night.