South Hutchinson
2 South Main • South Hutchinson, KS 67505
US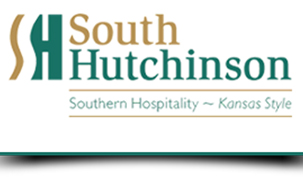 South Hutchinson is located in Reno County, on Highways US-50, K-61, K-96 and K-14. The city boundaries are marked on north and east city limits by the Arkansas River. The river divides South Hutchinson from the city of Hutchinson.
Salt has been an important part of the town's history. At one time, 17 salt companies did business here, and Morton Salt still has a large plant here.
In 1887, the first salt in this area was discovered in South Hutchinson by the town's founder, Ben Blanchard. The salt industry is one of the most important businesses in South Hutchinson and Hutchinson.
The Reno County Veterans Memorial is currently under construction in South Hutchinson. Reno County veterans, living or deceased from all conflicts and eras are recognized for their contributions to protecting American freedom at home and abroad.
Located in South Hutchinson, the Reno County Memorial represents the commitment of all citizens of Reno County to honor those who chose to enter into military service. Click here for more information.
For more information about South Hutchinson, visit us on the web at www.southhutch.com.