Rivers Banks Orchard Park
2911 East 43rd Avenue • Hutchinson, KS 67502
US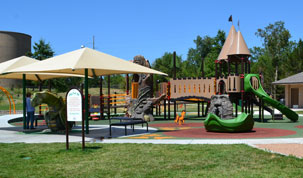 The park, named for a Civil War veteran and early Reno County pioneer who founded an orchard on the site that bore his name for generations, is being developed over the next several years. Completed in the initial phase were restrooms, an entrance road, parking, lighting and the playground.
Winwoods Enchanted Playground is the 51st Shane's Inspiration playground in the United States but the first such playground in Kansas. The park includes special slides, swings and a teeter-totter, fantasy characters such as a dragon that will spray children with a light mist of water when they press his belly button, artificial tree trunks carved to look like woodland trolls, and xylophones the children can play. And it's all surrounded by a fun, sponge-like safety surface on the ground.
The next phase includes adding the park's loop road, additional parking, and lighting. The road will provide access to a fishing pond farther into the 72-acre park. The master plan also includes future features such as inner and outer loop trails connected to the city's larger trail system, a disc golf course, athletic practice fields and a pavilion that can be rented for group gatherings such as family reunions, weddings or company picnics.