Longest-Running Kansas Bicycle Tour Returns
Thursday, May 12, 2022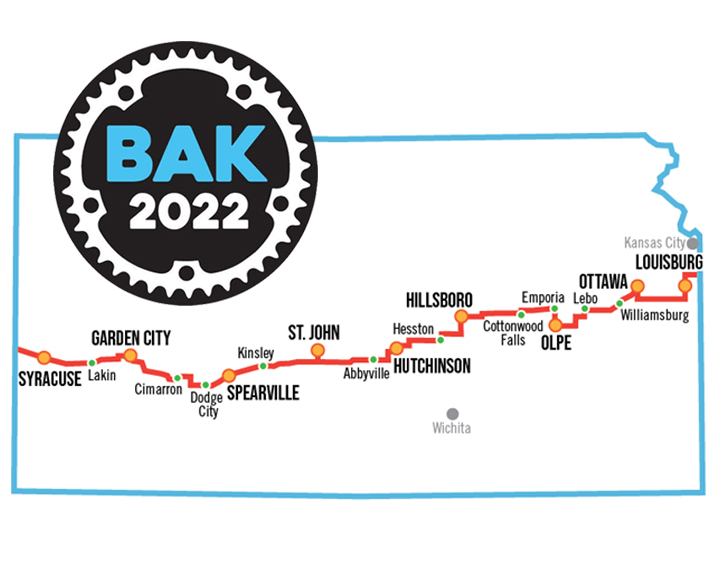 The longest-running bicycling event in Kansas history—a 512-mile ride across the State—begins Friday, June 10, 2022, after canceling the tour due to the pandemic in 2020 and hosting a three-day rally in 2021. BIKING ACROSS KANSAS is an eight-day tour originating at the Kansas-Colorado line with an anticipated 600 bicyclists, including support staff.

The bicyclists will start at the Kansas-Colorado line west of Syracuse and will stop overnight in Garden City, Spearville, St. John, Hutchinson, Hillsboro, Olpe, and Ottawa. The cyclists' final night together will be in Ottawa Friday, June 17. The following morning, they will cycle to the Missouri border and back to Louisburg to celebrate the end of the ride.

BAK is also routed through: Lakin, Cimarron, Dodge City, Kinsley, Abbyville, Hesston, Cottonwood Falls, Emporia, Lebo, Williamsburg, and many more Kansas towns.

"The 2022 route will begin west of Syracuse and progress through varied and scenic Kansas landscapes, starting in the Arkansas River Lowlands region and ending in the Osage Cuestas region. Highlights include: the Santa Fe Trail in the western part of the state, giant windmill farms surrounding Spearville, Cosmosphere and Strataca in Hutchinson, Chase County Courthouse, Tallgrass Prairie National Preserve in the Flint Hills, intersection of the Prairie Spirit and Flint Hills Trails in Ottawa, and more," said David Rohr, Chairman of Biking Across Kansas, Inc.

Many bicyclists will return as repeat participants, one who bicycled the very first tour in 1975. Others will take on the challenge and enjoy the trip across the State for the first time. Riders will represent a wide age span—from 13 to 86 years old—and multiple generational families. Entries are anticipated from more than 30 states, including as far away as New York, Florida, Washington, and California.

The primary objectives of Biking Across Kansas are to promote wellness through bicycling, celebrate Kansas history and the its beautiful landscape, and enjoy the warm hospitality of its towns and people.

For more information on Biking Across Kansas 2022 or to register visit https://bak.org/.
Contact:
Stefanie Weaver
Biking Across Kansas, Inc. (913) 735-3035